Magazine
Subscribe
---
Try Now 6 month subscription
Discovery offer : for a 6 months subscription, equivalent to 3 issues = 19 € instead of 30 €
Add to cart
Subscription 6 issues = 52 euros instead of 60 euros
Subscription to the magazine, 6 issues 52 euros instead of 60 euros Special offer for one subscription = 1 free pass for 2 people for the exhibition LUMIÈRE DU LIBAN at the Institut du monde arabe
Add to cart
Subscription 2 years
2 year subscription to the magazine, equivalent to 12 issues.
The subscription will start from the next issue.
Add to cart
At your newsagent
---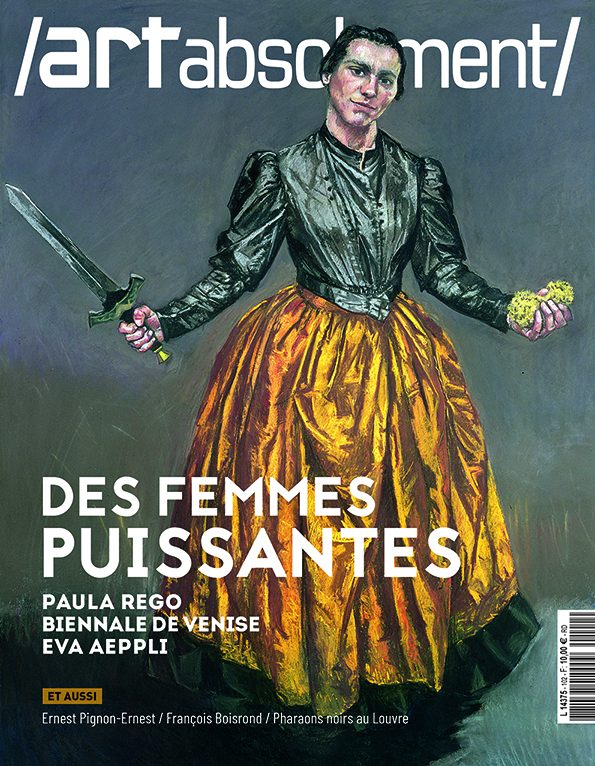 Juillet-Août-Septembre 2022
DES FEMMES PUISSANTES
Paula Rego
Biennale de Venise
Eva Aeppli
En kiosques et librairies le 13 juillet 2022
Add to cart
Summary
8 Chroniques
Carnets de route. L'Institut Pasteur et le virus de l'art contemporain // L'état des choses. Bouquet final à Nice
12 Dossier DES FEMMES PUISSANTES
59e Biennale de Venise. Immortelle tu es belle. Pavillon international et pavillons nationaux de la Biennale d'art, Venise
20 Dossier DES FEMMES PUISSANTES
Kapoor, Dumas, Baselitz. Noces de sexe et de sang. Gallerie dell'Accademia / Palazzo Manfrin / Palazzo Grassi – Pinault Collection / Palazzo Grimani, Venise
24 Dossier DES FEMMES PUISSANTES
Eva Aeppli. L'âme est dans le purgatoire. Centre Pompidou-Metz
31 Actualités
Hommage : Au revoir, Monsieur Villeglé… / Bicentenaire Rosa Bonheur / Henri Cartier-Bresson à la Fondation Pierre Gianadda / Leroy ou la beauté nue à Tourcoing et Paris / Berlinde De Bruyckere : cire, mort et peau à Montpellier / Au LaM, Messager amusée /
......